How To Get The Most Out Of HubSpot's Free Marketing & Sales Packages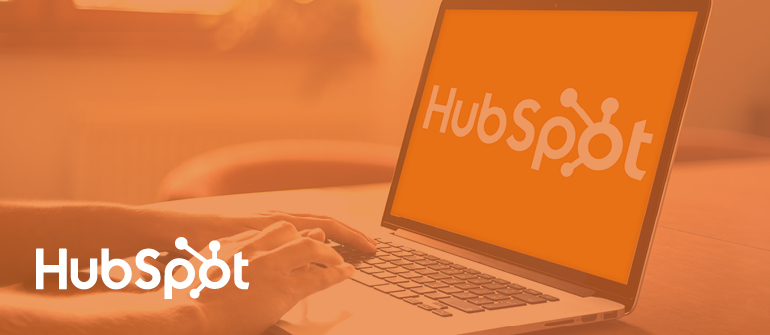 It's well known in the marketing world that HubSpot offers one of the most powerful Marketing, Sales and CRM platforms. HubSpot listens to their user base and consistently makes improvements based on their feedback. Because of this, HubSpot is consistently praised for its versatile features and user-friendly interface.
Outside of the marketing world, mention HubSpot to people and you'll likely be met with a blank stare. For those not familiar with the tool, it can be difficult to get your head around the software - let alone get the best out of it.
This blog will show you how to get the most out of the HubSpot free tools so that you can maximise your lead generation.
Mastering HubSpot takes time, but you can squeeze significant value from the free packages if you focus on maximising a few under-utilised features. We'll take you through those in this blog.
Marketing
The Free Marketing Hub gives users a solid foundation on which to build quality lead generating campaigns.
You can be excused for thinking a free tool is just bait to get you onto the paying package. But you'll be surprised at how much of a punch it packs once you know how to get the most out of it.
Making the most of forms
HubSpot makes it easy to create lead-capture forms for your website. For some reason, users wait months to utilise forms. What are you waiting for?!
You need some type of lead capture on every page.
This is going to be the key thing when it comes to lead generation. Without going too deep into the Inbound Marketing methodology, you need to provide people with a way to enter their details.
Usually, this is done in exchange for content (like guides or white-papers) or to sign up for events and webinars. This is probably common knowledge for anyone with a little marketing experience but one type of form is commonly overlooked. And that's the pop-up forms - those forms that pop up when you take a certain action. We've had the most success with exit prompts but test variations and monitor your metrics to see what works best for your audience.

Our exit prompts actually perform better than our landing pages AND took a fraction of the time to set up!
A great tip is to customise the lead flows for individual pages.
For example, if you are on our social media product page, you will get a prompt about our social media blueprint. If you are on our Inbound Marketing page, you will see a lead flow for our Inbound Marketing guide.
Optimising in this way helps connect people to relevant content and increases the chance of them dropping in their details - filling your lead pot.
Note: Do not use lead flow forms on mobile. It's pretty damn annoying. You'll find this in settings when setting up a pop-up form:

Conversational bots
Your visitors, prospects, and customers expect to connect with you in real time via live chat. But for most companies, supporting one-to-one conversations on a larger scale can be a challenge.
That's where a conversational bot can come in handy. With HubSpot's chatbot tool, you can easily create bots that help you qualify leads, book meetings, provide answers to common customer support questions, and more — so your team has more time to focus on the conversations that matter most.
On the free version, you are limited to lead qualification, meeting booking, and ticket creation bots, with no custom branching logic but it's still a feature worth taking advantage of to help fill your lead gen pot.
Even if you have no experience creating bots, HubSpot's chatbot templates make it easy to get started.

Choose a template based on your bot's goal, and hit the ground running. Then use the visual editor to customise the conversation and match your brand's voice and tone. Tweak the copy, add questions and multiple choice responses, and make each bot your own.
Sales
The paid versions of the Sales packages pack a mighty punch, however, HubSpot Sales Free comes with an impressive package of free features to help (kind of) automate your lead nurturing process every step of the way.
Save Time With Email Templates
This is a feature that will save you a lot of time and keep your processes on point. On the free Sales package, you are limited to 5 email templates but that should be more than enough.
Having an email template readily available will make it much quicker to reply to your FAQs - and take the frustration away for your sales staff. It will also set out a standardised way to move potential customers towards a sale.
Automating your emails is one of the biggest reasons to upgrade but there is a workaround for free users - albeit more time-consuming. You can create a campaign of emails and schedule them to send in a make-shift sequence.
Because it takes longer, only focus on the contacts you feel are most likely to convert or have the most potential.
Email Tracking & Notifications
You should turn this on to get instant notifications whenever a prospect opens or clicks a link in your email, so you can follow-up quickly.
On the free version, you are limited to tracking 200 emails and you can quickly burn through your quota if you leave it on. To get the most out of this feature on the free package, only use tracking for important emails - like quotes and proposals.
It's really easy to turn on/off, just click the track button when writing an email: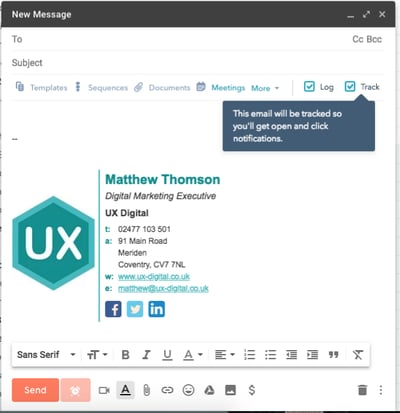 Meeting Scheduling
Booking a face to face meeting can be tedious when you're busy but you can take the hassle out of scheduling meetings by sending out a customised link that lets leads set up a time based on mutual availability.
Meeting face to face is a key part of closing new deals so streamlining this can seriously help when you're trying to win new clients and you get to avoid tiresome back and forth 'what time works best for you?' emails.
Sales Free synchronises with Google Suite and Microsoft Outlook.
You can see our's for an example here - we've embedded it into a page.
Contact Activity
One of our favourite HubSpot features are the insights available for every contact profile. HubSpot allows you to track visitor behaviour once they have completed a form. You'll be able to see a number of data points with benefits to both marketing and sales teams.
With HubSpot Sales Free, you'll see:

-How the visitor initially found your website
-Their first and most recent visit date
-How many times they've visited
-How many pages they've viewed
-Exactly which pages/blogs they viewed and at what time each view took place.
-Which forms they've submitted
On the free package, you only get 7 days of this per contact but analysing this data will allow you to better focus your marketing efforts, zeroing in on the traffic sources driving the most visits, leads, and customers. It also gives you insights on how your content is performing and what content may need further adjustment.
From a sales perspective, you can still gain significant value from those 7 days. If your contact has visited certain product pages, you can gauge what problems they are trying to solve. Armed with this you can offer them more relevant, valuable content to help build their trust in your business.
After 7 days, you won't know what pages they are visiting but you still have a clear understanding of what their problem is based on their initial visit and you can build off that. (Historical data unlocks as you upgrade.)
Conclusion
Recap of features:
1. Pop-Up Forms
2. Conversational Bots
3. Email Templates
4. Email Tracking & Notifications
5. Meeting Scheduling
6. Contact Activity
When we speak to HubSpot user's who are still on the fence, these are the features we see being underused the most. They say "We're doing this, this and this. Isn't that enough?"
Even if you're doing quite a few things right, you can still miss out on many of the benefits that HubSpot brings if you don't take the time to learn about all the awesome tools available in the software.
Utilise their incredible library of free training articles and videos to establish your knowledge base. We know that can be time-consuming but it will be worth it when the leads start coming in.
If you don't have the time or are a bit overwhelmed with the tools, use a HubSpot partner to hand-hold you and show you the ropes.
If you've been using the free version of HubSpot and are ready to try the more advanced features, you can get access with a 30-day free trial: